Man Steals District Chief Vehicle from Lealman Fire District Station 18
Michael James Chick, age 31 of St. Petersburg, is in custody after stealing a district chief vehicle from Lealman Fire Station 18 at approximately 1:15 p.m. on Saturday, January 27, 2018.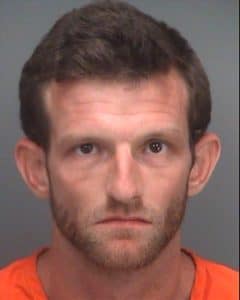 The vehicle was parked in the bay at Station 18 located at 4017 56th Avenue N when it was taken according to Captain Larry Thompson of Lealman Fire District.  He reports a call was received about the vehicle traveling in a reckless manner which led to the discovery of the theft.
VIDEO
Chick initially refused to stop for deputies. Deputies say they attempted low speed interventions including Stop Stick deployment and were unsuccessful because of Chick's evasive actions.
Deputies utilized the "Eagle" to track the vehicle until it could be brought to a stop.
Deputies say Chick appeared to stop several times but then continued to evade
deputies.
The vehicle was brought to a halt in the parking lot of the Arby's restaurant located at 66th Street and Ulmerton Road where the man was quickly taken into custody.
The man was medically evaluated by paramedics from Largo Fire Rescue and taken from the scene by the Pinellas County Sheriff's Office.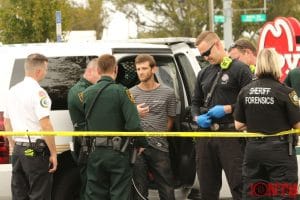 Chick was apprehended without incident according to Corporal DeFrancisco of the Pinellas County Sheriff's Office.
No deputies were injured and only minor damage was done to a cruiser says DeFrancisco.
Shortly after the theft, District 18 was dispatched to a structure fire call in Seminole.  A district chief chief from Largo was dispatched in its place.
Chick was arrested and charged with one count of Burglary to an Occupied
Structure, Fleeing and Eluding, and Grand Theft Auto.
Article will be updated if any further information is obtained regarding the incident.
Photos
Comments
comments