The Clearwater Police Department is investigating a fatal vehicle versus motorcycle crash that shut down the intersection of South Fort Harrison Avenue and Belleview Boulevard.
The crash occurred at approximately 5 p.m. on Saturday, June 1, 2019.
According to investigators, 29 year-old Kelley Nicole Zielinski aka Nicole Zielinski of Safety Harbor was traveling southbound on Ft. Harrison Ave. approaching Belleview Blvd in a 2003 Hyundai Accent.
Jeffrey Pearl, age 56 of Largo was traveling northbound on Ft. Harrison Ave on a 2002 Harley Davidson motorcycle.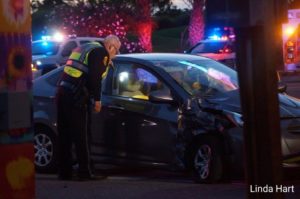 Investigators say Zielinski made a left turn to go eastbound onto Belleview Blvd, directly in front of the Pearl's motorcycle causing a collision.
Pearl was ejected from the motorcycle and suffered fatal injuries.
He was pronounced dead at the hospital at 10 p.m.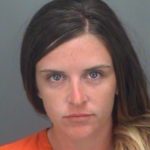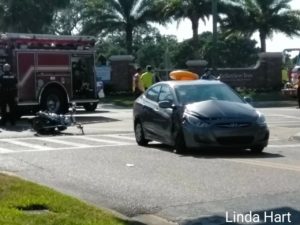 The driver of the vehicle showed signs of impairment and failed field sobriety tests. Kelley N. Zielinski was arrested on-scene for DUI manslaughter.  She also is facing two charges of neglect of a child.  A witness reports that Zilinski had children in the vehicle with her at the time of the crash.
In an update from the Clearwater Police Department, prior to the accident with the motorcycle, there was a road 
rage incident in the Pinellas County Sheriff's Office jurisdiction. That incident occurred shortly before the crash at the intersection of West Bay Drive and Indian Rocks Road.  All parties left the scene prior to arrival of officers.  
Police say Zelinsk was the victim in the road rage incident. Then Zielinski drove on Fort Harrison Avenue and entered Clearwater's jurisdiction and had a crash with the motorcycle.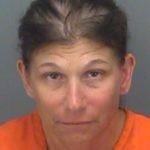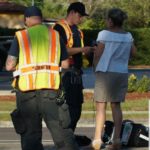 After the motorcycle accident, the road rage suspect, Stacey Lynne Maurer, age 52 of Clearwater, arrived at the motorcycle crash scene and palm struck Zelinski in the nose and pushed her.
The attack was witnessed by fire department personnel on the scene. According to the arrest affidavit, Maurer shouted, "I can't believe ya'll are arresting me for hitting that bitch in the face after she killed that man on the motorcycle!"
Maurer stated that Zielinski was break checking her, following too closely and almost made her crash multiple times.
The case resulted in the battery and DUI charges for Maurer. CPD investigated the battery and DUI case for Maurer.
Maurer admitted that the liquid in her vehicle was a rum runner which she had been drinking much of the day. She refused field sobriety testing but gave off a strong alcoholic odor, slurred speech, and bloodshot, watery eyes.
Records indicate that Zielinski had a previous conviction in Florida for Driving under the Influence.

The intersection was closed in all directions for approximately 4 hours.