Deputies from the Pinellas County Sheriff's Office, assigned to the Major Accident Investigation Team (M.A.I.T.), are investigating a vehicle versus motorcycle crash in South Pasadena.
The crash occurred at approximately 7:15 p.m. on Thursday, April 25, 2019.
According to investigators, 49 year-old James Bekas of Largo, was driving his 2013 Harley Davidson FLHX motorcycle northbound on Pasadena Avenue South, approaching a solid green light at the intersection of Gulfport Boulevard South and Pasadena Avenue South.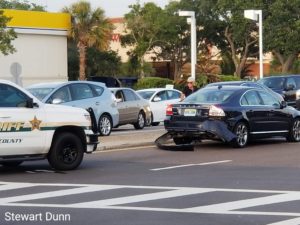 Investigators say, 70-year-old Sue Henderson of Gulfport, was driving her 2012 Volvo S80 southbound on Pasadena Avenue South. She was attempting to make an eastbound turn on Gulfport Boulevard South, with a flashing yellow arrow.
As Henderson proceeded to make the eastbound turn, she entered the path of Bekas' motorcycle. Bekas' motorcycle struck the passenger side of Henderson's vehicle.
Bekas was transported to the trauma center at Bayfront Health St. Petersburg with life-threatening injuries.
Investigators say that Bekas was not wearing a helmet at the time of the crash.
Henderson refused medical treatment on-scene.
Impairment does appear to be a factor in the crash, police say.
The investigation continues.
Comments
comments