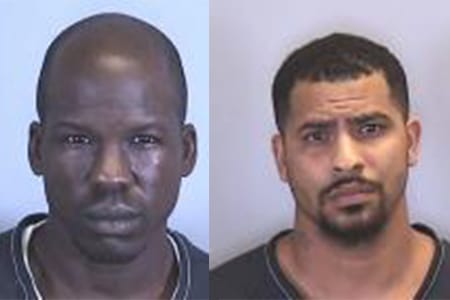 Palmetto Police Arrest Two Pinellas Residents for the Robbery of a Manatee County Burger King
On October 3, 2017, Palmetto Police officers arrested two male suspects that robbed the store manager of a Manatee County Burger King at gun point.
Pinellas detectives believe the suspects, 26-year-old Antonio Berrios of St. Petersburg and 31-year-old Ryan Anderson of Pinellas Park, are likely responsible for the armed robbery at a Burger King in Largo, September 26, 2017, and the attempted armed robbery at a Burger King in Palm Harbor, October 3, 2017.
Detectives say Berrios and Anderson used the same method of operation to commit the robberies and their black clothing was similar to those worn by the Pinellas County robbery suspects.
Detectives believe the same two suspects are responsible for as many as five robberies at Burger King Restaurants in Pinellas Park and Tampa, between June 30, 2017 and September 29, 2017.
Palmetto Police officers charged Berrios and Anderson with Armed Robbery and Kidnapping.
They were transported to the Manatee County Jail.
Criminal charges are pending for the Burger King robberies in Pinellas County.
The investigation continues.
Related articles and links
DETECTIVES SEEK TO IDENTIFY TWO SUSPECTS WHO ROBBED A BURGER KING IN UNINCORPORATED LARGO
POLICE SEEK TWO SUBJECTS THAT ROBBED THE BURGER KING ON US-19 IN PINELLAS PARK
Comments
comments