Grandfather Dies After Vehicle Strikes PSTA Bus Stop in St. Petersburg
Updated: November 26, 2017 – 3:30 p.m.
83 year-old Santiago Carcamo died as a result of his injuries in a St. Petersburg crash.
According to St. Petersburg Police, at 12:50 p.m., 78 year-old driver Louise Pequeno, turned right out of Disston Plaza to head north on 49th Street.
Investigators believe a small white or light colored SUV swerved to avoid her but made contact with her vehicle.
Pequeno then swerved and drove into the bus stop bench.
35 year-old Gabriel Oliva suffered broken bones, but he is expected to be okay.
His grandfather, Santiago Carcamo, age 83, suffered critical injuries and died this afternoon at Bayfront Health.
Investigators would like to speak to the driver of the light colored SUV that may have been involved.
Anyone with information, please call 893 7780 or text.SPPD + your tip to TIP411.
---
Previous post
Two people are reported injured following a vehicle crash that occurred at about 12:45 p.m. on Sunday, November 26, 2017.
The crash occurred on 49th Street N near 35th Avenue N in St. Petersburg.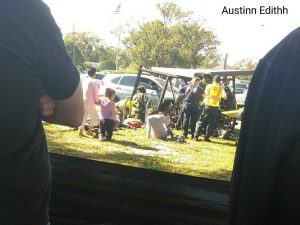 One of the vehicles involved crashed into a PSTA shelter which was heavily damaged.
Arriving crews initially reported two people were entrapped.
A car went off the road and hit two men sitting at a bus stop in front of Disston Plaza.
49th Street is closed from 34th-38th Ave North for the investigation.
The female driver of the vehicle stopped and is cooperating with the investigation.
St. Petersburg Police report the victims are related grandfather and adult grandson.
Both were injured. The grandfather's injuries are life-threatening according to St. Petersburg Police.