Pinellas County Man Pleads Guilty To Stealing Millions By Using Stolen Identities—And Attempted Bank Robbery in Seminole
Jason Peter Kendall, age 36 of Seminole, has pleaded guilty to one count each of bank fraud, securities counterfeiting, aggravated identity theft, and attempted bank robbery. Kendall faces a maximum penalty of 30 years in federal prison for the bank fraud, up to 20 years for the attempted bank robbery, up to 10 years for the counterfeiting, and a mandatory consecutive term of two years for the aggravated identity theft. A sentencing date has not yet been set.
According to the plea agreement, Kendall stole the personal identifying information of various individuals and opened securities-trading accounts in his name and the names of his identity theft victims. He then funded those accounts by stealing account information and impersonating accountholders to gain access to bank accounts held by individuals and businesses in Florida and across the country, directing those banks to wire funds into the trading accounts that he controlled. Over several months in 2016, Kendall transferred more than $3 million of victims' money into accounts that he controlled before his frauds were discovered.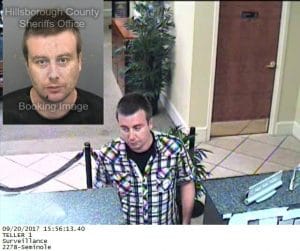 Then, on September 20, 2017, Kendall entered a BB&T Bank in Seminole and attempted to rob it. Once inside the bank, the suspect approached the bank teller, implied he had a gun and demanded cash.  After a teller activated a silent alarm to alert other employees to the robbery, Kendall fled without obtaining any money.
On September 25, 2017, Kendall was arrested by the Hillsborough County Sheriff's Office for three outstanding warrants from Pinellas County: one count of Grand Theft, one count of Petit Theft, and one count of issuing a worthless check.  Detectives were able to locate Kendall at the Comfort Suites Hotel located at 4506 Oak Fair Boulevard in Tampa.  Detectives say that he admitted to the attempted bank robbery during an interview.
He was transported to the Hillsborough County Jail after his arrest at 9:20 am on Monday, September 25, 2017.