Pinellas Deputies Arrest Two After Carjacking and Crash in Madeira Beach
According to deputies, the victim 52-year-old Christian Jensen, was working as a car salesman at Crown Mitsubishi located at 5500 34th Street North, when he agreed to take an unknown male subject on a test drive in a maroon 2012 Cadillac CTS.
Deputies say that during the test drive at approximately 2:25 p.m., the suspect pointed a handgun at Jensen and ordered him to get out of the car near the intersection of 54th Avenue North and 37 Street North. The victim exited the vehicle and watched as the suspect drove off in the Cadillac, westbound on 54th Avenue North.
Deputies responded to the scene and were searching the area for the stolen
vehicle when citizens reported a red Cadillac driving recklessly on Gulf Boulevard in Madeira Beach.
A deputy in his cruiser traveling northbound on Gulf Boulevard saw the stolen Cadillac driving recklessly. The Cadillac passed the deputy southbound on Gulf Boulevard, driving aggressively and speeding. When the deputy made a U-turn he lost sight of the vehicle.
Minutes later, at approximately 3:17 p.m, deputies were notified of a crash involving a Cadillac that struck a palm tree near 14048 Gulf Boulevard, Madeira Beach. When deputies arrived at the crash scene, they were informed by witnesses that two male subjects had exited the Cadillac and fled the scene on foot.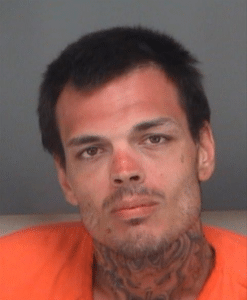 Deputies set a perimeter and apprehended 30-year-old Robert Gajate who was found near the scene of the crash. Witnesses positively identified Gajate as the driver and the suspect who stole the Cadillac.
Treasure Island police officers located the passenger, 25-year-old George Olson. Deputies say Olson was in possession of crack cocaine and a handgun that was identified as the gun used in the carjacking. Deputies learned that the gun was reported stolen out of Pinellas County in 2003.
When deputies interviewed Gajate, he admitted to stealing the Cadillac and picking Olson up afterwards. Gajate informed deputies he was released from prison on April 9, 2018, for Grand Theft Auto.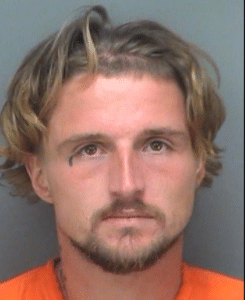 Gajate and Olson were both arrested and transported to the Pinellas County Jail.
Gajate was charged with one count of Armed Carjacking, one count of Grand Theft Auto, one count of Felon in Possession of a Firearm, one count of Reckless Driving with Property Damage, one count of Leaving the Scene of a Crash with Property Damage and one count of Driving While License Suspended or Revoked.
Olson was charged with one count of Felon in Possession of Firearm and one count of Possession of a Controlled Substance (Crack Cocaine).
The investigation continues.

Video courtesy of Eric Eibell