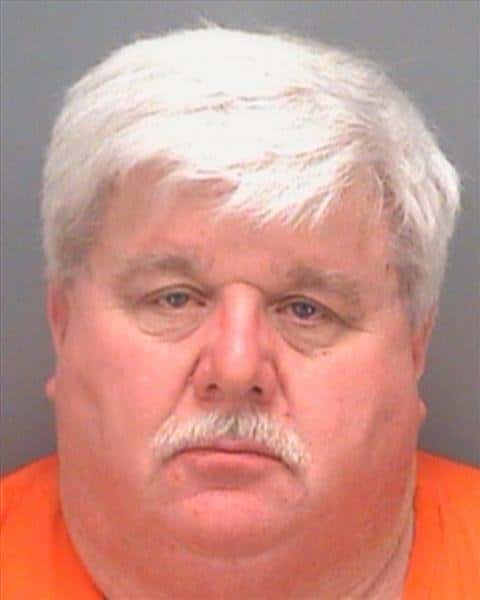 Pinellas Deputies Arrest Long Time President of Youth Athletic Organization After Money Missing from Bank Account
Leonard W. Anderson, Jr., age 61 of Palm Harbor, was booked into the Pinellas County Jail on January 18, 2018 for grand theft, a second degree felony charge.
Anderson served as President of the Suncoast Youth Football Conference (SYFC) since 2005 according to state records.
Detectives from the Pinellas County Sheriff's Office (PCSO) were contacted by Chris Taylor, the current treasurer of the organization, in regards to numerous discrepancies associated with the organization's bank account.
Taylor informed the PCSO detective that three transactions made by Anderson were not accounted for.  The questionable transactions occurred between December 2016 and May 2017.  According to court documents, on December 19, 2016, Anderson cashed a check from SYFC payable to cash in the amount of $22,500.  On the same day, a cashier's check from Anderson's account was made to the All Florida Mobile Home Sales in the amount of $16,500 to purchase a mobile home.
On May 9, 2017, a $750 electronic transfer from the SYFC's account was transferred into Anderson's personal Regions bank account.  On February 13, 2017, a $6,000 check cash withdrawal from the account was made by Anderson at the bank.
According to Ron Winbush, current SYFC president, board members met with Anderson about the financial discrepancies.  Ultimately, he was relieved of his duties and made some commitments to repay the funds, according to Winbush. Pressure mounted from board members that wanted to pursue criminal charges against Anderson.
On June 29, 2017, PCSO Detective Joseph Cangemi met with Anderson and discussed the transactions after reading him his Miranda rights.  Anderson reportedly admitted to taking the money but said he was going to pay the money back.  After Detective Cangemi learned that no money has been paid back, a request for an arrest warrant was made on November 21, 2017.  This was after the detective was unable to arrest and/or locate Anderson.
On January 12, 2018, Pinellas County Circuit Court Judge Nancy Moate Ley approved the finding of probably cause to arrest Anderson and hold him on a $75,000 bond.
Anderson was booked into the Pinellas County Jail on January 18th and is being held on newly modified $25,000 bond on a felony charge of grand theft. He was previously residing as the Southwind Mobile Home Community located at 795 County Road 1, Lot 177 in Palm Harbor.
Winbush explains that these discrepancies occurred during a transitional period for the SYFC treasurer.  He states that the organization has taken all appropriate steps to ensure more oversight and accountability to enhance the security of their accounts and money.
Windbush states that SYFC did not have insurance coverage to cover the losses.  He reports that the nearly $30,000 loss impacted the organization but he remained positive that they will continue to grow and thrive.  He acknowledged that several other organizations and people have greatly assisted in keeping SYFC operating and are looking forward to their July 2018 season kickoff.
According to the organization website, the Suncoast Youth Football Conference (SYFC) was originally chartered in 1995. They started out as a conference comprised of only 8 teams, and have since grown to 12: Azalea Bulldogs, Clearwater Jr. Tornadoes, Countryside Jr. Cougars, Dunedin Jr. Falcons, East Lake Eagles, Gibbs Jr. Gladiators, Lakewood Jr. Spartans, Northeast Bandits, Pinellas Park Thunderbirds, Seminole Chiefs, St. Pete Lil' Devils, and Tarpon Springs Jr. Spongers.
Comments
comments