Dunedin Man's Arrest Links Him to Inappropriate Interaction With an Eight Year Old Boy in Dunedin
Update: April 8, 2018 – 3:30 p.m.
On Friday, detectives asked for the public's assistance in identifying an adult male that attempted to abduct/kidnap an eight year old boy in Dunedin.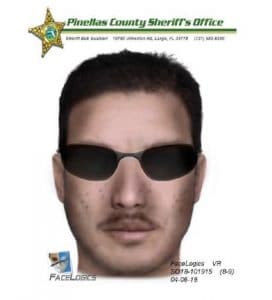 The incident occurred at approximately 2:55 p.m on Friday, April 6, 2018 as the child was walking northbound from his bus stop on Colony Drive in Dunedin.
As the child was walking on Colony Drive, the suspect drove up next to him. According to investigators, the suspect told the child, "I work with your dad and he wants me to pick you up."
The victim did not recognize the suspect and kept walking northbound. The suspect stopped his vehicle and got out, possibly attempting to grab the victim. The victim ran home and told his parents, who then notified law enforcement.
The suspect was described as a white or Hispanic male between the ages of 30 and 40. He is tall and thin with an athletic build. He has a dark complexion, with marks (possibly freckles) on his cheeks, dark brown hair that is short on top and buzzed on the sides, with a short mustache. He was last seen wearing dark rimmed sunglasses and a light blue, short-sleeve collared shirt.
The victim last saw the vehicle heading eastbound on Chadsworth Drive in Dunedin. The vehicle is described as a small, silver or grey, newer model, four door SUV.
The child was safe and unharmed.
On Sunday, April 8, 2018 at approximately 10:12 a.m., detectives arrested 53-year-old Jeff Stephen Mills of Dunedin for one count of Luring or Enticing a Child and two counts of Simple Battery.
Detectives were able to identify Mills through citizen tips and various investigative techniques.
During their investigation, detectives received additional information that Mills had made contact with two 12-year-old males near the intersection of Lakewood Drive and Dogwood Drive in Dunedin on Friday, April 6, 2018 around 5:00 p.m. and hugged them without their permission.
Once in custody, detectives interviewed Mills who admitted to making contact with and hugging the 12-year-old males. Mills also admitted to talking to the 8-year-old male, but denied telling the child that he knew his father and that he was told to pick him up. Mills also denied getting out of his vehicle.
Mills was taken to the Pinellas County Jail without incident.
Any information regarding this investigation or any related cases or questions, please contact the Crimes Against Children Unit Detective J. McGonigle 727-582-6566 or by email [email protected].