Plans Scrapped After Copper Thief Nabbed by Police in Palm Harbor
Artimio Ruiz, age 44 of Tampa, was arrested after fleeing from police in Palm Harbor Wednesday morning.
In the early morning hours of Saturday, Sunday and Monday, Ruiz had been collecting small copper wire collected from a vacant building at 31975 US Hwy 19 N in Palm Harbor.
He reportedly transported large amounts of copper to be scrapped at two different locations in Hillsborough County.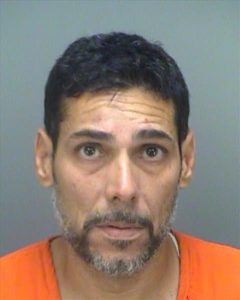 On Wednesday, Tactical Surveillance Units from the Pinellas County Sheriff's Office with assistance from the Tampa Police Department witnessed Ruiz exit the building with copper wire in his possession.
Deputies made contact with Ruiz in the parking lot of the business while he was seated in his vehicle.  According to the arrest affidavit, despite being ordered to stop multiple times, Ruiz maneuvered his vehicle around the patrol car and drove at a high speed out of the parking lot and traveled northbound on US-19.
Ruiz was ultimately stopped near the intersection of Rosemere Drive and Hawks Landing Blvd off of Ridgemoor Blvd in Palm Harbor.
Deputies located copper wire in the trunk of his vehicle and in his wallet, a small red plastic bag containing a white powder which field tested positive for heroin according to court records.
Ruiz admitted he should have not run from the police but said he "panicked" when he saw the police.  He also told deputies that he was en route to Hillsborough County to scrap the items.
Ruiz is being held in the Pinellas County Jail for multiple counts of burglary, possession of a controlled substance and fleeing and eluding police officers.
Correction make to age of Ruiz