A Gulfport police officer was involved in a vehicle crash that occurred at approximately 11:12 p.m. on Monday, November 25, 2019.
The crash occurred at the intersection of Gulfport Boulevard and 49th Street S in Gulfport.
According to investigators, 28-year-old Gulfport Police Officer Courtney Palazzolo was driving southbound on 49th Street South in a fully marked Dodge Charger. As Palazzolo approached the Gulfport Boulevard South intersection, she had a green light and continued southbound through the intersection.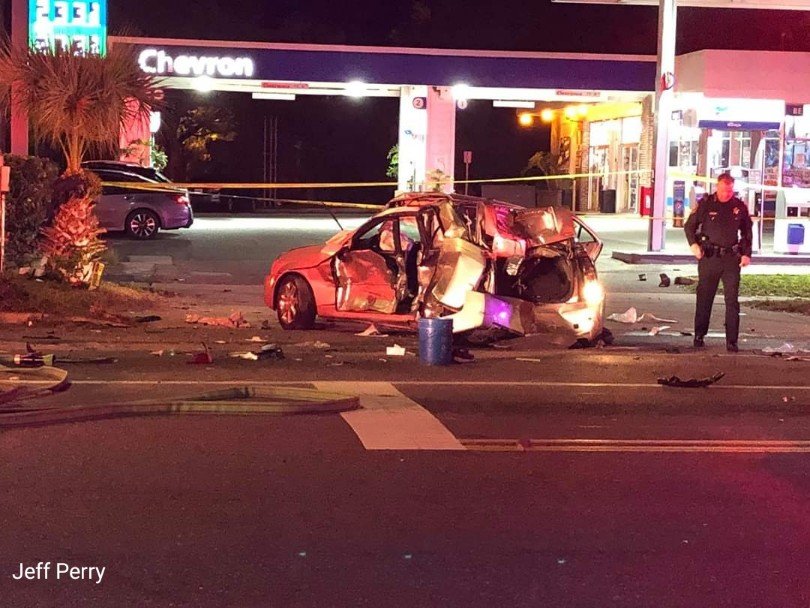 Investigators say at the same time, 19-year-old Cameron Daynard of St. Petersburg was driving his 2005 Cadillac CTS with 19-year-old front seat passenger, Reyna Williams. Daynard was driving eastbound on Gulfport Boulevard South when he failed to stop for the red light at the 49th Street South intersection.
This resulted in Officer Palazzolo crashing into the driver's side of the Cadillac. The impact rotated the Cadillac in a counter-clockwise direction, causing it to strike a traffic signal electrical box at the southeast corner of the intersection and causing traffic signal light boxes to snap off the line. Both vehicles came to final rest in the northbound lanes of 49th Street South.
Investigators spoke with an independent witness who saw Daynard's Cadillac fail to stop for the red light.
Daynard and Williams were both transported to Bayfront Health St. Petersburg with serious injuries.
Investigators say that Williams was not using her seatbelt and Daynard's seatbelt usage has not been determined. Daynard exhibited signs of impairment according to officers.
Officer Palazzolo was also transported to a local hospital where she was treated and released with minor injuries.
The investigation continues.