Two Arrested Near Rocky Point After Armed Robbery at AT&T Store in Clearwater
Clearwater Police responded to a report of an armed robbery at an AT&T store located at 21561 U.S. 19 N. at 3:43 p.m. on Saturday, June 2, 2018.
The suspect left the scene in a gray Nissan SUV and a Clearwater police officer spotted the car eastbound on the Courtney Campbell Causeway shortly thereafter.
Police say that the officer monitored the vehicle from a safe distance and the vehicle ended up in the Rocky Point area of Tampa.
After an exhaustive search by Clearwater Police and Tampa Police, two suspects were taken into custody and are being charged in this afternoon's armed robbery.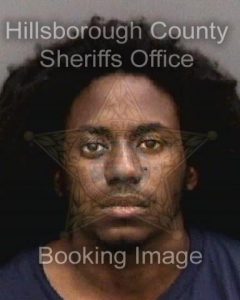 The suspects are 25 year-old Dajor Atkins of Tampa and 23 year-old Anthony Riley also of Tampa. Both will be charged with armed robbery. Additional charges may be forthcoming. Atkins has an extensive criminal record in Hillsborough County.
There were no injuries to the armed robbery victims at the cell phone store.