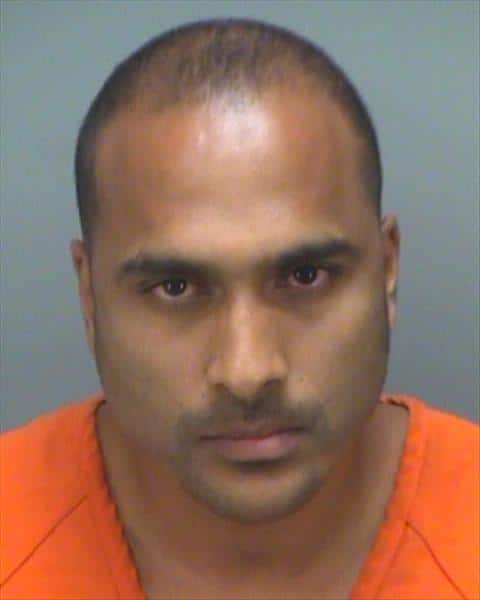 Two Pedestrians Killed in Treasure Island, Driver Arrested for DUI Manslaughter After Hit and Run
Deputies assigned to the Pinellas County Sheriff's Office Major Accident Investigation Team (M.A.I.T.) are investigating a fatal vehicle vs pedestrian crash in Treasure Island. Two pedestrians were struck and killed and died as a result of their injuries.
The incident occurred at about 6:45 p.m. on Saturday, June 2, 2018 in the median lane of Gulf Boulevard at 11799 Gulf Boulevard, in Treasure Island, Florida
According to investigators, 74-year-old Nicholas Michael Desanta, was walking with 81 year-old Beverly J. Gran, both from Sebring, Florida, when they attempted to cross Gulf Boulevard at 11799 Gulf Boulevard, in Treasure Island.
Both pedestrians were attempting to cross Gulf Boulevard from west to east when they were struck by a 2014 Ford Explorer driven by 38-year-old Aleem Reezan Temon Hamid.
Hamid immediately fled the scene of the accident in the 2014 Ford Explorer.
Both Desanta and Gran were initially critically injured as a result of the crash. Paramedics from Treasure Island Fire Rescue responded and transported both Desanta and Gran to the Hospital. Desantra and Gran were later pronounced deceased at the hospital.
Officers from Treasure Island Police Department later located Hamid still behind the wheel of the 2014 Ford Explorer, located at 1 Park Place, Treasure Island.
Investigators say that Hamid showed signs of impairment and refused to cooperate with investigators.
Investigators arrested Hamid at about 8:06 p.m. on Saturday, June 2, 2018 and was transported to the Pinellas County Jail without incident.
Hamid was charged with two counts of DUI manslaughter, two counts of leaving the scene with death, and refusal to submit to submit to lawful test of breath, urine and blood.
The Pinellas County Sheriff's Office worked in cooperation with the Treasure Island Police Department in this case.
Next of kin has been notified.
The investigation continues.