Skydiving Santa Claus Injured While Attempting to Land on Gulfport Beach
A male skydiver was injured this morning attempting to land on Gulfport Beach in the 5000 block of Beach Boulevard S during a "Winter Wonderland" event.
The incident occurred at approximately 10 a.m. on Saturday, December 2, 2017.
The man, dressed in a Santa outfit, was attempting to land at the Tampa Bay Beach Bums Volleyball Tournament.
Many spectators witnessed the incident at the event. Witnesses reported that while attempting to land on the beach, the skydiver struck a pine tree and light pole on his approach to the beach.  Two other skydivers landed safely.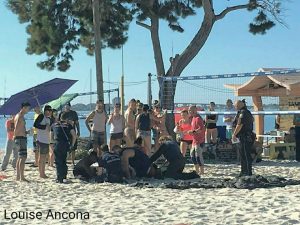 The man in this 30's was assisted by bystanders then treated by paramedics and transported by ambulance to Bayfront Health St. Petersburg with non-life-threatening injuries.
The man did experience a significant leg injury.
Additional information if/when available.