Spring Hill Man Named Suspect in Louisville Triple Homicide Taken into Custody in Pinellas County Friday Evening
Here is the latest from the Louisville Metro Police Department in their update Monday, January 15, 2018.
Christopher Olivo, age 46 of Spring Hill, Florida was apprehended Friday evening in Pinellas County after being named a suspect in a triple homicide in Louisville, Kentucky earlier in the day.
The Louisville Metropolitan Police Department (LMPD) Homicide Unit coordinated with the Pinellas County Sheriff's Office and authorities in Hernando County to locate Olivo.
It was at approximately 10 p.m. on Friday, January 12, 2018, when Pinellas County Deputies and other local law enforcement from the Violent Crime Task Force (VCTF) prepared to conduct a traffic stop on the vehicle being driven by Olivo that was traveling southbound on US-19 on the Ulmerton Road overpass.
OnStar technology assisted in slowing and eventually disabling the 2015 Chevy Cruze once officers and the Sheriff's Office helicopter were in position above the location.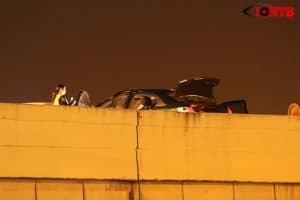 Olivo was taken into custody. Deputies say that when VCTF deputies arrested Olivo, he was wearing a ballistic vest and had an AK47 assault rifle on the passenger seat of his vehicle.  The AK47 was not the weapon used in murders according to police.
Olivo's 2 year-old daughter who was listed as missing was recovered safely.  She was located in Hernando County and is currently with relatives.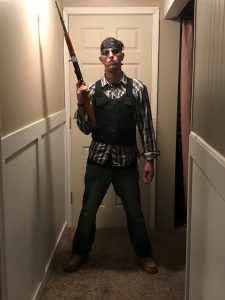 Olivo shot and killed his girlfriend, 39 year-old Geneva Miles, her brother Michael Miles (27), and wife Catherine Miles (24).  The Miles' two children were found uninjured in the home and in their cribs.  They had a 4 year-old son and 2 year-old daughter. The two children are being taken care of by family members.
VIDEO
The three adults were found shot to death when officers from the Louisville Metro Police Department arrived at approximately 4 p.m. at 6424 of Venango Drive on Friday January 12, 2018.  The exact time of the shooting has not been released.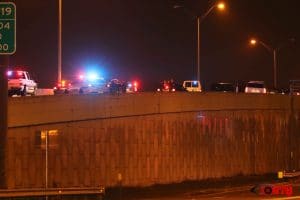 It is reported that the Christopher Olivo and Geneva Miles were visiting her family in Louisville at the time of the homicides.  They resided in Florida at 4247 Jason Road in Spring Hill.
Olivo was booked into the Pinellas County Jail at approximately 6:16 a.m. on Saturday, January 13, 2018.  He is being held without bond until he can be extradited back to Kentucky to face charges of three counts of murder and one count of tampering with physical evidence.   Members of the Louisville Metropolitan Police Department (LMPD) Homicide Unit are traveling to Florida at this time. Further details regarding Olivo's capture will be released during a news conference planned for Monday at LMPD Headquarters.
The southbound lanes of US-19 were closed for several hours during the investigation.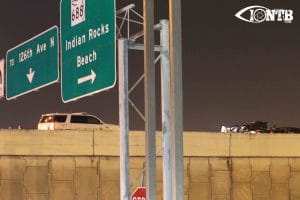 The Violent Crimes Task Force (VCTF) is a county-wide, multi-jurisdictional task force that focuses on violent crime in Pinellas County. The task force is comprised of law enforcement officers from the Pinellas County Sheriff's Office, St. Petersburg Police Department and the Clearwater Police Department.
This is a developing story and additional information will be posted when made available.
Updated: January 15, 2018 – 2:15 p.m.
Comments
comments