Tampa Police Arrest Suspect in Seminole Heights Murders
Tampa Police have arrested and charged 24-year-old Howell Emanuel Donaldson III, with four counts of murder in connection with the Southeast Seminole Heights homicides.
At approximately 2:40 p.m., on Monday, November 28, 2017, a community member at the McDonald's restaurant located at 2101 E 13th Avenue, contacted a Tampa Police Department (TPD) officer and notified the officer that a man in the restaurant had a firearm in a bag. The officer checked inside the bag and called for backup.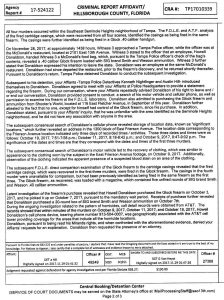 TPD detained the man who brought the firearm into the restaurant – later determined to be Howell Donaldson – and brought him to TPD headquarters for questioning. After several hours, TPD had enough information to charge Donaldson with all four of the homicides that have occurred in the Seminole Heights area.
TPD detectives are still working on the case and the investigation continues. TPD will schedule a news conference Wednesday morning to provide more details.
Timeline:
Monday, October 9

, Benjamin Mitchell, 22 was killed at approximately 

9 p.m.

Wednesday, October 11

, Monica Hoffa, 32, was shot. Her body was found on


October 13

.

Thursday, October 19

, Anthony Naiboa, 20, was shot at approximately 

8 p.m.

Tuesday, November 14, Ronald Felton, 60, was shot at approximately 

4:51 a.m.

Tuesday, November 28, Howell Emanuel Donaldson III was arrested and charged
with each of the murders.