On January 20, 2023, a Grand Jury indicted 17 year-old Deonte Bishop of St. Petersburg for Murder in the First Degree for the shooting death of a 15 year-old. The incident occurred about one month after being unlicensed and leaving the scene of a deadly crash. The shooting death occurred just 9 days after posting bail from the Pinellas County Jail and while wearing an ankle monitor.
Detectives from the St. Petersburg Police Department (SPPD) began to investigate a shooting incident that left a 15 year-old victim dead. The incident occurred at approximately 9:10 p.m. on Thursday, December 29, 2022 near the 1500 block of 9th Avenue S.
The victim of a shooting, 15 year-old Zykiquiro Lofton was transported to Johns Hopkins All Children's Hospital where he later died of his injuries.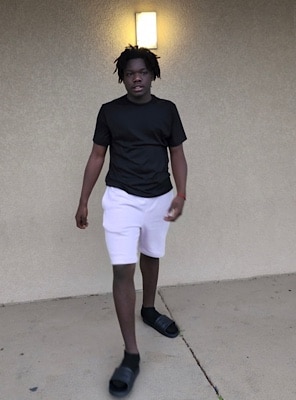 During the course of the investigation into the death of Lofton, detectives were able to develop probable cause to charge Bishop.
St. Petersburg Police detectives charged 17 year-old Bishop, as a juvenile, with 1st Degree Felony Murder in the homicide of Lofton.
Bishop had already been arrested hours earlier at 12:30 a.m., December 30th, on unrelated charges. Officers pulled over a car in a traffic stop, and Bishop was a passenger. At that time, he was charged with carrying a concealed firearm and possession of marijuana with intent to sell.
Bishop was previously arrested after fatal hit and run crash the occurred on Saturday, November 26, 2022 at 10:09 p.m.
According to officers, a black 2014 Chevrolet Camaro, driven by Bishop was traveling northbound Dr. MLK Street South. A silver 2008 Dodge Charger, driven by 87 year-old Denry Gayle of St. Petersburg was traveling west from the stop sign at 30th Avenue South. As Gayle made his southbound turn at the intersection, Bishop collided with him, striking the driver's side of the Dodge.
Bishop fled the scene and was apprehended a short time later. Bishop had no valid driver's license at the time of the crash.
Deonte Bishop was charged with leaving the scene of a crash involving death, and operating a motor vehicle without a license involving death.
Gayle was transported to Bayfront Health St. Petersburg where he died from his injuries.
On Thursday, December 1st, 2022, 61 year-old Ricky Bishop, the father of the boy was charged with allowing an unlicensed person to drive his vehicle involving death. This is a misdemeanor charge and Ricky Bishop received a Notice to Appear.