Troopers from the Florida Highway Patrol (FHP) continue to investigative a serious injury crash involving three vehicles and eight occupants. The crash occurred in the northbound lanes of I-275 on the Howard Frankland Bridge at approximately 11:33 a.m. on Sunday, September 5, 2021.
According to troopers, an SUV was traveling northbound on I-275 near milepost 33 on the Howard Frankland Bridge. The vehicle was operated by a 42 year-old woman from Wilmington, Delaware. Her passenger was a 56 year-old woman from Newark, Delaware.
One of the other vehicles involved, described by FHP only as a sedan, was traveling in front of the SUV. The sedan slowed in traffic and the driver of the SUV failed to slow accordingly. The SUV stuck the rear of the sedan propelling it into outside portion of the roadway and was struck by a second sedan. The second sedan, operated by 33 year-old male from Spring Hill, FL rotated and collided with the guardrail.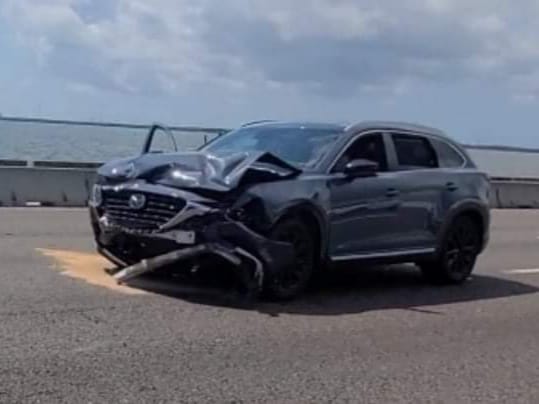 The occupants of the first sedan are described as a 31 year-old woman (driver) and a 26 year-old male, both from Tampa, FL. Also in the vehicle were three children, a 11 year-old boy along with two girls, ages 8 and 4. According to an official press release from FHP, none of the children were utilizing a seatbelt or appropriate child restraint.
The two occupants in the SUV suffered serious injuries as well as the 4 year-old girl in the first sedan. The two adult occupants of the first sedan were not injured and all other injuries are described as minor, according to FHP.
All further details surrounding the crash were not released as it remains under investigation by the FHP.
The Florida Highway Patrol's policy is to withhold the names of all parties involved in crashes due to Marsy's Law. This law, passed by the Florida voters in 2018, was meant to protect crime victims. FHP has expanded and provided this protection even to those that have been arrested and caused the death of others in recent DUI cases. Their interpretation deprives the public of information that had always been available as part of the state's public records law.