The Florida Highway Patrol (FHP) have arrested, 43 year-old Justin Delarosa of Dunedin on charges of DUI with serious injuries.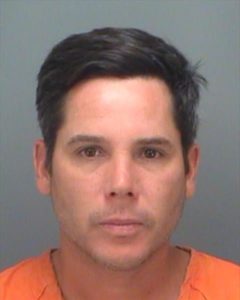 According to FHP, Delarosa was traveling westbound in a 2010 Ford F250 on Keystone Road approaching East Lake Road at approximately 8:40 p.m. on Tuesday, September 17, 2019.
The driver of a 2017 Ford Fusion, Ashley Pine of New Port Richey, was stopped in the eastbound left turn lane on Keystone Road at East Lake Road.  Pine proceeded to turn left under a green turn arrow. Delarosa failed to stop at the red traffic signal and collided with the passenger side of the Fusion.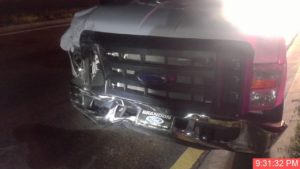 A passenger, Jessica Thomas, age 31 of New Port Richey, was transported with what FHP says are critical injuries.  Pine and another passenger, a 75 year-old woman in the Fusion, suffered minor injuries.
Delarosa was not injured in the crash and was arrested for DUI with serious injuries.
He was transported to the Pinellas County Jail and refused a breath test.