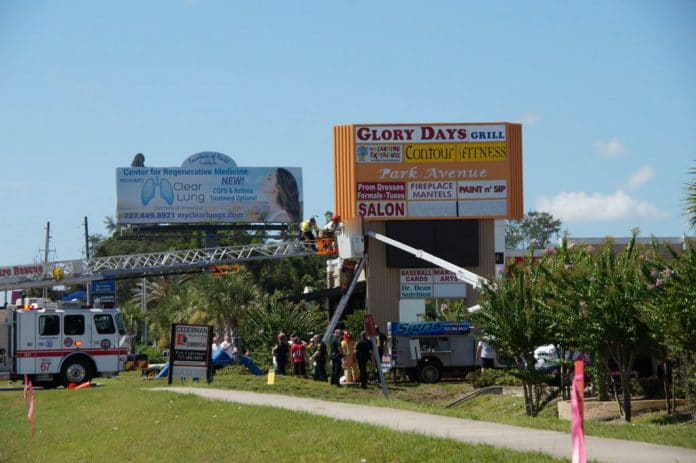 Worker Dies After Being Trapped While Working on a Corporate Sign in Palm Harbor
Updated 4 p.m.
Firefighters were dispatched to a business at 34200 US Hwy 19 in Palm Harbor at approximately 11 a.m. on Wednesday, August 9, 2017.
It was reported that a worker was trapped between the arm supporting the bucket he was working in and a sign at the front of the local businesses.
At about 11:04 a.m., on August, 9, 2017, deputies were called to the Glory Days Grill, located at 34200 US Highway 19 North, in Palm Harbor, for an unresponsive man who was working on a billboard sign in front of the business.
According to detectives, the victim 58-year old Robert Tanner of Tarpon Springs and his co-worker 50-year-old Charles Walker of New Port Richey, both employed by Accent Neon and Sign Company, were working on the electric billboard in front of the business.
Tanner was utilizing a hydraulic bucket truck to work on the sign while Walker stayed on the ground. Tanner was inside the bucket on the hydraulic boom approximately 20 feet above the ground when Tanner leaned over the boom control panel switches, attempting to reach an electrical access panel on the sign.
Detectives say when Tanner leaned on the boom control panel switch, his body inadvertently activated the switch causing the boom to rise upward. The upward motion of the boom pinned Tanner's torso between bucket and the metal overhang of the sign. Tanner was unable to release the switch due to the hydraulic pressure.
Walker witnessed Tanner in distress and tried to reverse the boom by accessing a control panel on the side of the truck.
Walker was unable to reverse the hydraulic pressure or override the control panel.
Paramedics from Palm Harbor Fire Rescue responded to the scene and spent more than 20 minutes working to free Tanner from the bucket. Multiple agencies including Bayflite were requested along with specialized technical rescue crews.
Tanner was pronounced deceased at the scene.
Detectives say the death appears accidental in nature.
The Occupational Safety and Health Administration (OSHA) was notified of the death investigation.
Next of kin has been notified.
Comments
comments