On Friday, May 2, 2020, the State Attorney stated, "having conducted an investigation in this matter, concluded that the facts and circumstances revealed do not warrant prosecution at this time." This came after the arrest of a Pinellas Park businessman, 36-year-old Galen Wood, by deputies from the Pinellas County Sheriff's Office on April 16, 2020.
On April 16th, deputies state they were conducting a non-essential business compliance check at Kitchen Table Games, located at 9600 66th Street North, Suite E, in Pinellas Park, after receiving numerous complaint tips stating the business was violating the "Safer-At-Home" Order.
While conducting the compliance check, deputies observed the business to be open, watched employees interact with customers, and noted Kitchen Table Games to be operating as a non-essential business.
According to deputies, response teams were called to the business on multiple occasions, after receiving complaint tips on April 3, 2020, twice on April 7, 2020, April 10, 2020, and April 16, 2020.
Deputies say that Mr. Wood was issued warnings on each of these occasions and become argumentative and refused to close, according to the Sheriff's Office.
After observing the multiple violations on April 16th, deputies made contact with Wood, who again refused to cease from operating. Wood was taken into custody and charged with Operating a Non-Essential Business and Travelling to Operate a Non Essential Business.
Wood was transported to the Pinellas County Jail without further incident.
Wood was legally represented by Gordon G. Oldham from the law firm of Oldham & Delcamp and co-counsel State Representative Anthony Sabatini. His attorneys claimed the emergency order was arbitrary and capricious, bearing no relationship to increased public safety, and in no way reduced the spread of Coronavirus. They went on to claim malicious treatment and arrest of Mr. Wood as ordered by Pinellas County Sheriff Bob Gualtieri. The business was not even physically open to customers and all transactions occurred outside the physical space of the business and were delivery and pickup orders.
His attorneys, claimed that Mr. Wood was denied his right to do business in the limited capacity he was was able to under the Governor's Executive Order 20-91 and its subsequent adoption by the Pinellas County Board of Commissioners and was unlawfully arrested. They also plan to file a civil lawsuit against Pinellas County and the State of Florida.
According to Governor DeSantis, businesses that do not have contact with customers or only interact through pick up and delivery with customers have always been able to remain open under the Miami-Dade order (Amendment 1, Section 2(gg)), which was included in the Governor's original Essential Services and Activities Executive Order 20-91. The executive orders allowed for local authorities to set firmer restrictions based on local situations, and enforcement was largely left to local authorities.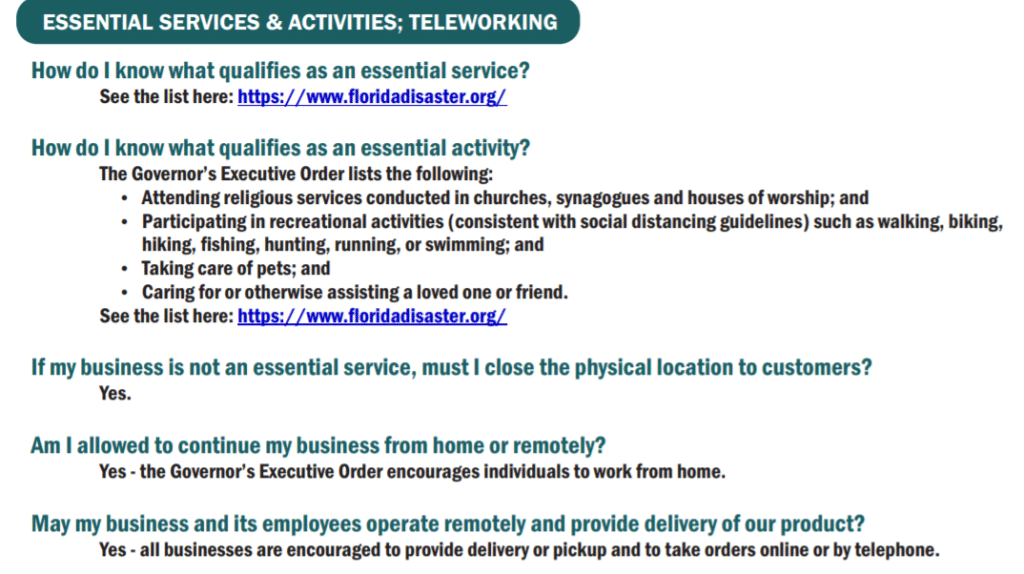 The Pinellas County Sheriffs' Office engaged in the enforcement and forced closure of non essential businesses including pickup and delivery services.
In response to the the decision, Mr. Wood wrote, "It's a victory for everyone who believes in the inalienable right to work, which is enshrined in the Florida Constitution. It's a victory for people who believe police should be law enforcers not lawmakers. Next step is for us to hold them accountable for not upholding their oath to the law and constitution."
Many other small businesses such as Sandy Feet Mobile Kayak Rental are extremely upset at the Sheriff and the County Commissioners' interpretation of the Governor's order. The mobile kayak rental company's owners, Mary Jo and Jimmy Monbarren, were ordered to close despite not having a physical location and only offered kayak pickup and drop offs. The Sheriff continually got asked about kayak rentals companies in which he replied by blaming Governor DeSantis's executive order saying, "the order isn't really open to interpretation." He went on to say that common sense should not be applied to the details of the executive order and "if it's not on the list of yes, then it's automatically a no."
Sandy Feet was forced to cancel reservations and offer refunds to customers. Authorities did not seem to mind that the company offered kayaks to first responders at no charge. Mary Jo reported that about 50 first responders benefited from the free rental service. They are anxiously waiting to reopen next week since they have only received $1200 relief from the Federal Government. Mary Jo said they still need to pay rent, buy food, pay for the truck along with their other equipment.
Sheriff Gualtieri stated yesterday, in reference to the new executive order (20-112), if it's not on the, can not do list, "your good, go do it." Below is the document of the Pinellas interpretation of the new order. It includes many business that must remain closed, "Per the Governor." Some believe that some of these listed business to remain closed such as paint, craft, and art studios are clearly not mentioned by the executive order and are new restrictions enacted by the County.