On Tuesday, February 21, 2017, a Clearwater woman was killed in crash on Roosevelt Blvd at the intersection of 62nd Street N.
The crash occurred at approximately 1:05 PM when 65 year-old Barbara Ronacher was attempting to make a left turn at the intersection.  She was traveling eastbound in a 2014 Chevy Malibu when she proceeded to turn into the path of another vehicle.
The other vehicle, a 2016 Dodge Challenger, was being driven by a 35 year-old man from Trinity. He was driving westbound in the inside lane and collided with the passenger side of the Malibu.
Crews from Largo Fire Rescue and Sunstar Paramedics arrived on-scene and determined that she died as a result of her injuries.
The other driver was transported to Mease Countryside Hospital with minor injuries.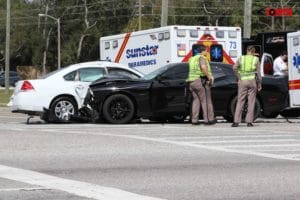 According to Florida Highway Patrol (FHP), neither driver was wearing a seatbelt at the time of the crash.  Alcohol was not suspected to have played a role in the crash according to the report.
FHP continues their investigation as this is only a preliminary report.
The roadway was reopened to traffic at about 4 PM.
Comments
comments