Armed Bank Robbery Suspect in Custody After a Pursuit and Vehicle Crash in Clearwater
Updated: May 3, 2018 – 10:30 p.m.
Pinellas County Sheriff's Office Deputies are investigating a bank robbery at Hancock Bank located at 28163 US Hwy 19 N. Deputies received the call at about 3:52 p.m. on May 3, 2018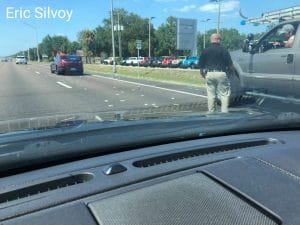 Detectives assigned to the Robbery/ Homicide Unit have arrested an armed bank robbery suspect after the man lead deputies on a pursuit and crashed his car in unincorporated Clearwater.
Detectives say the suspect, 37-year-old Anquan Walters, walked into the Hancock Bank wearing long pants, a long sleeve shirt, gloves, glasses with a fake beard and panty hose over his head.
Witnesses told investigators that Walters was carrying a black handgun when he jumped over the counter, he ordered people to the ground and demanded money.
Walters was given an undisclosed amount of cash and he exited the bank.
Detectives say Walters got into a 1998 Toyota Camry and fled northbound on US Hwy 19.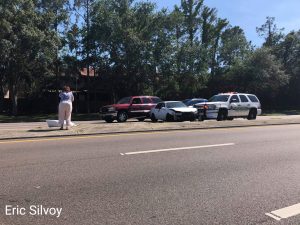 As Walters was fleeing from the bank, multiple dye packs exploded and Walters started throwing cash out of the window of the Camry, onto US Hwy 19 North.  Multiple people posted photos on social media of money scattered all across US-19.
Responding deputies spotted Walter's Camry traveling northbound towards Curlew Road.  Deputies tried stopping Walters but he fled in the Camry at a high rate of speed, eastbound on Curlew Road.
Deputies initiated a vehicle pursuit and successfully deployed a tire deflation device that deflated the tires on Walter's Camry as he approached Countryside Boulevard.
Detectives say Walters lost control of the Camry and crashed into a 2009 Kia Sportage being driven 52-year-old Caroline Kahael, and a 2006 GMC Yukon being driven by 62-year-old Randy Donaldson. Kahael and Donaldson were both stopped at the intersection of Curlew Road and Countryside Boulevard.
Detectives say Corporal Phillip Love was pursuing Walter's Camry at the time of the crash. Corporal Love was unable to stop his marked 2013 Chevrolet Tahoe cruiser before crashing into Walter's Camry at the intersection.
Walters abandoned the damaged Camry and fled on foot northbound into a nearby apartment complex. Deputies chased Walters on foot and apprehended him near 34601 Countryside Boulevard.
Detectives say Walter's clothes were covered in colored dye as a result of the bank's dye pack exploding.
Kahael was transported to Mease Countryside Hospital for non-life-threatening injuries.
No other injuries were reported.
Detectives arrested Walters and transported him to the Pinellas County Jail.
Walters was charged with one count of Armed Robbery, one count of Fleeing and Eluding Law Enforcement, one count of Leaving the Scene of a Crash with Bodily Injury and one count of Leaving the Scene of a Crash with Property Damage.
The investigation continues.
Comments
comments