Deputies Pull Over Vehicle in Indian Rocks Beach Finding Multiple People Stabbed [Video]
Pinellas County Deputies along with Fire Rescue personnel responded to a call for a person stabbed shortly before 11 p.m.. on Wednesday, January 24, 2018.
Deputies were initially en-route to the call at the Sunoco Gas Station at 2601 Gulf Blvd in Indian Rocks which involved up to 5 people.  The caller to 911 then reported that some of the involved subjects left the location and headed southbound on Gulf Blvd in a black Jeep Wrangler.
A deputy spotted the vehicle turning to head eastbound toward the Indian Rocks bridge.  A traffic stop was conducted and the driver pulled into the parking lot of PJ's Oyster Bar at 415 2nd Street.  The deputy held the three occupants at gunpoint until other deputies arrived to assist.  It was then discovered that the stabbed individuals were in the vehicle and not at the original call location.  Fire Rescue personnel then responded to the new location to treat the injured subjects.
At least two of the subjects in the vehicle were stabbed multiple times. The two males that were stabbed were transported to Bayfront Health St. Petersburg by ambulance as trauma alerts due to penetrating traumatic injuries.  None of the injuries appeared life-threatening.
The third subject was being loaded into an ambulance with lesser injuries.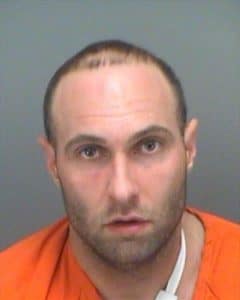 Lawrence Jester, age 30 of Odessa, was arrested and facing charges of 2 counts of aggravated battery related to the stabbing.
According to the arrest affidavit, Jester was initially involved in a verbal altercation with the victim. Jester reportedly punched the victim which resulted in two other friends attempting to help the victim. Jester pulled out a knife and stabbed the victim twice in the back and once in the left side of the abdomen.
The victim's friend received a stab wound to the right side of his neck and twice in his left shoulder.
The third victim did not wish to pursue charges.
No other information is available at this time.
Comments
comments