Dunedin Man Arrested After Three Destructive Devices Found Inside Home During Child Pornography Investigation
Update: October 25, 2017
24-year-old Randall Drake remains in a Pinellas County mental health facility and has not been released.
It's anticipated that Drake will not be released in the near future.
Proceedings surrounding Drake's involuntary mental health commitment are confidential and the Pinellas County Sheriff's Office can't provide any additional information.
A court order has mandated that Drake will wear an electronic monitor following his release from the mental health facility.
Drake is also prohibited from being within 1,000 feet of any school.
The criminal investigation is still open and active.
Original posting
24 year-old Randall Winston Drake was arrested and charged with Unlawfully Making, Possessing or Attempting to Make a Destructive Device
On Wednesday, October 18, 2017, detectives assigned to the Crimes Against Children Unit executed a search warrant at a residence located at 1234 Royal Oak Drive North, Dunedin, in connection with a child pornography investigation.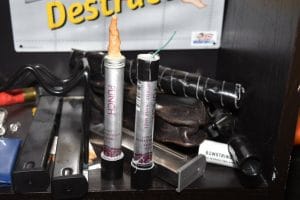 Detectives say that during the course of their search, detectives found a locked closet in the bedroom of 24-year-old Randall Drake. Detectives entered the closet and found a large collection of weapons that included three destructive devices.
Detectives say two of the homemade destructive devices were constructed of metal cylindrical cigar tubes containing gun powder and wicks for detonation. The third device was constructed of a plastic tube containing gun powder, wrapped in tape with a fuse.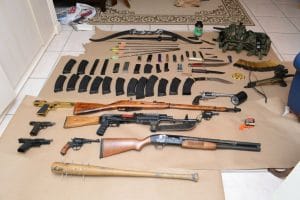 Detectives found a folder with aerial photographs of Essrig Elementary School and Ben Hill Middle School in Hillsborough County, aerial photographs of a water treatment plant in Hillsborough County, and several books and handwritten notes documenting how to make explosive devices.
Detectives say they also found a handwritten note stating, "The daughters come, and I am ready. I have fed on my hatred for centuries. My fury at those who imprisoned me shall be vast and without mercy. I shall have my bloody revenge, and then the WORLD WILL BURN BURN."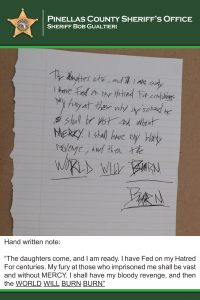 Members of the Hillsborough County Sheriff Bomb Squad Team along with representatives from the Federal Bureau of Investigation Joint Terrorism Task Force and the Bureau of Alcohol, Tobacco, Firearms and Explosives responded to the scene. The Hillsborough Bomb Squad Team safely removed the destructive devices from the home.
Detectives removed ten rifles, eight handguns, two shotguns, more than 2,300 rounds of ammunition, a make shift firearm sound suppressor, more than 15 knives, a baseball bat with protruding nails, a crossbow, brass knuckles, gun powder and other evidence from the residence.
Detectives tried interviewing Drake about the destructive devices; however, he refused to speak with detectives.
Detectives arrested Drake and charged him with two counts of unlawfully making, possessing or attempting to make a destructive device.
No child pornography was immediately located but multiple electronic devices were seized as part of the search warrant.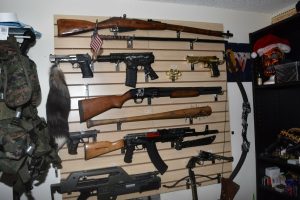 Drake was transported to the Pinellas County Jail without incident and booked at 3:27 p.m on Wednesday afternoon.  Drake posted $20,000 bail and was released from the custody of the Pinellas County Jail today at 6:38 p.m. Sheriff Gualtieri stressed during his press conference that if bail was posted, Drake would be held on an involuntary psychiatric evaluation.  His immediate future will be determined following a psychiatric evaluation.
Detectives say Drake has no criminal history and no history of mental health issues. Drake resides at the home with his mother and father.  His parents reported was home-schooled since 3rd grade.
[gmap-embed id="20636″]
Detectives have yet to determine why Drake possessed the incendiary devices or what he intended to do with them.
Drake was fired from his last known job at the Florida Firearms Academy in New Port Richey in 2015.
Sheriff Bob Gualtieri held a press conference on October 19, 2017, to discuss
the circumstances surrounding Drake's arrest. Video of the conference can seen below.