Elderly Man Rescued From Partially Submerged Vehicle in Clearwater
A 91 year-old man was safely rescued from a vehicle that ended up partially submerged shortly before noon on Friday, July 13, 2018.
The incident occurred near Utopian Boulevard East and Utopian Boulevard in the  On Top of the World community.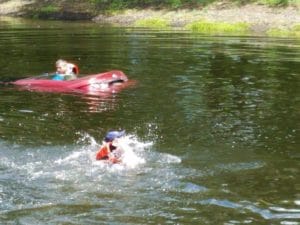 Clearwater Fire Rescue Medic Paul Sudduth and Fire Medic Andrew Sullivan were the two crew members who pulled the elderly man from the sinking car.
They were able to pull open a rear door and get the man from the vehicle. He was in the back seat of the vehicle in an air pocket as water was filling the vehicle.
Wrecker crews prepare to pull the submerged vehicle out of the water at Top of The World. Our crew members pulled the elderly driver from the vehicle as it was sinking. pic.twitter.com/4s7IC7QESU

— Clearwater Fire & Rescue Department (@clearwaterfire) July 13, 2018
He has reportedly been taken to Mease Countryside Hospital in stable condition.
Troopers from the Florida Highway Patrol (FHP) arrived to conduct an investigation.  They say that 91 year-old, Harry Hefter of Clearwater, was traveling westbound on Utopian Drive East, east of Utopian Boulevard.
Hefter's 2013 Hyundai Sonata struck a 2005 Pontiac Montana that was parked southbound on Utopian Drive East, west of Utopian Boulevard.
Hefter was attempting to making a left turn into a parking space adjacent to the Pontiac, accelerated forward, then collided with both the car and perimeter barrier wall.
Hefter continued through the parking space, turned right and entered a pond located within the property on the north side of the roadway.
Before fully submerging, fire rescue crews helped  evacuate him from the vehicle.
Hefter was cited for careless driving.