Detectives from Pinellas County Sheriff's Office (PCSO) continue to investigate a shooting that occurred at the Handy Corner convenience store located at 2325 119th Street in Largo.
Detectives from PCSO, assigned to the Robbery/Homicide Unit, have identified the suspect in the April 24, 2021 shooting at the Handy Corner convenience store.
On Saturday, April 24, 2021, at approximately 8:18 p.m., patrol deputies responded to the location and found 31-year-old Justin Wiley suffering from a gunshot wound to the head. He was transported to a local hospital with life-threatening injuries.
Detectives have obtained an arrest warrant for 28-year-old Demar Hartsfield of Pinellas Park, for Attempted First Degree Murder. Hartsfield, a local gang member, is described as a black male standing 5'7″ tall, weighing approximately 170 pounds, with a short haircut. He has multiple tattoos on both arms and an eagle tattoo on the front of his neck. He has been known to frequent the areas of Largo and Pinellas Park and may still be armed.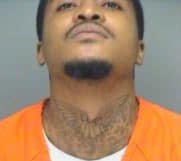 Anyone with information on Hartsfield's whereabouts is asked to call the Pinellas County Sheriff's Office immediately at (727) 582-6200. To remain anonymous and be eligible for a reward, contact Crime Stoppers at 1-800-873-TIPS or www.crimestoppersofpinellas.org.