St. Petersburg Police and St. Petersburg Fire Rescue were dispatched to a vehicle crash at approximately 11:09 a.m. on Tuesday, March 26, 2019.
The crash occurred at the intersection of 3rd Avenue N and University Way N. in St. Petersburg.
John Jaquith, age 26 of Nokomis, was operating a silver 2004 Infinity sedan driven northbound on University Way North.
A silver Ford SUV, driven by a 74 year old man, was eastbound on 3rd Avenue North.
The Infinity struck the Ford and then also struck a parked Toyota sedan on the east side of University Way North.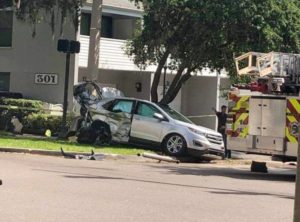 The driver of the Ford sustained serious injuries and was transported to Bayfront Health St. Petersburg.
Jaquith sustained minor injuries and was taken to the hospital for treatment.
Jaquith was later booked into the Pinellas County Jail on charges of Reckless Driving and Aggravated Assault with a Deadly Weapon on a Law Enforcement Officer.
According to police, Jaquith's arrest was due to his actions minutes before the crash when an officer, in uniform and a traffic vest, was directing traffic in the intersection of 6th Avenue South and 4th Street South.
The officer was directing traffic due a traffic light malfunction at the intersection.
Jaquith drove towards the intersection (traveling east on 6th avenue south toward 4th street) at a high rate of speed and ignored the officer's commands.
When the officer attempted to move out of the car's path, it swerved toward him, causing the officer to have to jump out of the way.
Jaquith is being held on $5250 bond.
The investigation is continuing and police say charges are still pending on the later crash on 3rd Avenue North and University.

[gmap-embed id="27312″]