Riverview Man Dead in I-275 Crash in St. Petersburg
Marco Gonzalez-Vargas, age 52 of Riverview, died in a vehicle crash in St. Petersburg that occurred on Friday, October 5, 2018 at approximately 3:10 p.m.
Gonzalez-Vargas was traveling northbound in the inside lane of I-275 near the 21 milepost in a 2019 Peterbilt truck
Menihla Johnson, age 17 of St. Petersburg, was operating a 2004 Infinity G35 northbound on I-275 in the center lane.
Lesley Cooper, age 62 of St. Petersburg, was traveling southbound on I-275 in a 2014 BMW 328I.
According to investigators from the Florida Highway Patrol (FHP), Johnson's Infinity collided with the Peterbilt truck and both vehicles departed the roadway and entered the center median.
The Infinity ultimately collided with a tree and came to rest in the median.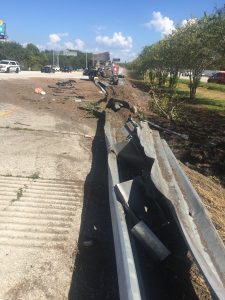 The truck collided with the center guardrail and overturned, continuing into the southbound lanes of I-275 spilling its
load of dirt across the roadway and collided with Cooper's BMW.
Gonzalez-Vargas was transported to an area hospital where he died from his injuries.
Johnson and her two 7 year-old passengers were transported to the hospital with what are being called minor injuries.
Neither Cooper nor her 17 year-old passenger were injured in the crash.
The investigation continues and charges are listed as pending.