Uber Driver's Window Shattered by Bullet Late Friday Night in Treasure Island
On Friday, October 27, 2017, at approximately 11:52 pm, Treasure Island Police Officers were dispatched to a call in the 10000 block of Gulf Blvd.
The female caller, who is an Uber driver, was picking up a fare in the area and initially reported that unknown person(s) passing by in another vehicle threw an object at her vehicle.
At the time of the incident, the victim was parked in her vehicle, and her fare entered the vehicle sitting in the front passenger seat. Before pulling away, a white sedan with dark window tint was traveling southbound and reportedly threw something at the victim's vehicle creating a hole in the rear driver's side, passenger door window. The window was shattered, and the projectile went through the tinted window. Neither the driver nor passenger were injured.
While Treasure Island Officers were conducting their investigation, the Pinellas County Sheriff's Office responded to a drive by shooting in St. Pete Beach in which a similar suspect vehicle was described to Deputies.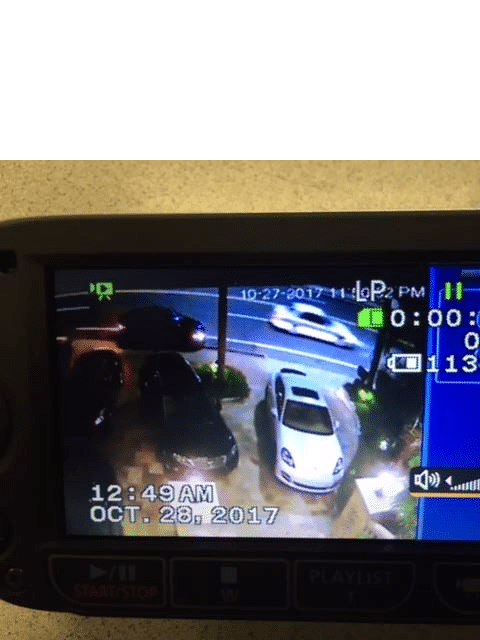 The victim was a pedestrian who was shot in the chest and trauma alerted to Bayfront Hospital. A late reported suspicious incident in St. Pete Beach also involved a similar white vehicle with up to four occupants one of whom was reported to be armed. The vehicle has been described as a white, four door sedan with dark tinted windows, possibly a white Chevy Impala.
A forensic examination of the victim's vehicle in Treasure Island confirmed the damage to the passenger window was caused by the discharge of a firearm, and it appears the St. Pete Beach and Treasure Island incidents may be related.
The resident at the Treasure Island scene had active video surveillance, and an image of the suspect vehicle was captured. Video footage confirms a white sedan was used in the commission of the crime in Treasure Island.
If you have any information on either incident, or if you have information to assist investigators in identifying the suspect vehicle and/or the suspects, please call the Treasure Island Police Department at 727-547-4595.
If you should observe any suspicious activity in your neighborhood, such as a vehicle being driven without headlights or a vehicle circling the area, please immediately call and report the incident to your local law enforcement. Remember…."See something, say something."
No other information is available at this time.