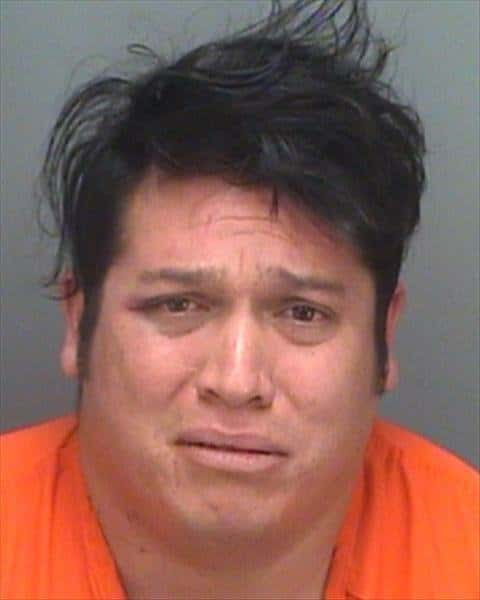 Deputies Arrest Man After He Critically Injures Girlfriend During Disturbance
At Gentleman's Club In Unincorporated Clearwater
Pinellas deputies have arrested 32 year-old Sonny Mendoza of Seffner man after he critically injured his girlfriend during a disturbance at a gentleman's club in unincorporated Clearwater.
At about 1:15 a.m. on January 1, 2018, deputies were called to the OZ Gentleman's Club located at 13577 US Highway 19 in unincorporated Clearwater, for a report of a disturbance occurring outside the business. When deputies arrived they located the victim 35-year-old Kara Thobe. Thobe was unresponsive suffering from head injuries.
Paramedics from Largo Fire Rescue responded to the scene and transported Thobe to Bayfront Health St. Petersburg for life-threatening injuries.
According to detectives, the suspect 32-year-old Sonny Mendoza and his girlfriend Thobe were outside the gentleman's club ordering food from the food stand when two unidentified Hispanic or light skinned black females exited the club. Witnesses told detectives Mendoza and Thobe exchanged words with the two unidentified females.
Detectives say the two unidentified females went back into the club and returned with two unidentified black males. A verbal exchange continued between Mendoza, Thobe and the unidentified males and females.  During the argument, a physical altercation occurred and a fight broke out.
Surveillance video of the altercation showed Mendoza fighting with the unidentified males.  During the melee, Mendoza threw Thobe to the ground where she struck her head. Mendoza was then seen repeatedly slamming Thobe's head into the cement until patrons at the club rushed in and restrained him.
The two unidentified males and two unidentified females fled the scene before deputies arrived.
Deputies arrested Mendoza and transported him to the Pinellas County Jail. Mendoza was charged with one count of aggravated battery.
Detectives interviewed Mendoza who claimed he mistakenly slammed Thobe into the ground multiple times thinking he was fighting with one of the unidentified males.
Detectives say Thobe's medical condition is critical.
Detectives are requesting anyone who may have witnessed this incident or anyone with information on the case to contact Detective James Upton of the Robbery/Homicide Unit at (727) 582-6321.
The investigation continues.
Comments
comments