Detectives Arrest Man After He Intentionally Set Another Man On Fire At A Homeless Camp In Oldsmar
Update: October 9, 2018
The victim, 60-year-old, James Heffernan was pronounced deceased on October 7,  2018 at 4:18 p.m., at the trauma center.
On October 9, 2018 at approximately 8:15 a.m., the suspect, 44-year-old Harold  Rosenbaum, was charged with Murder in the First Degree.
————
The Pinellas County Sheriff's Office have arrested 44 year-old Harold Rosenbaum Jr after deputies say he set a fellow transient on fire.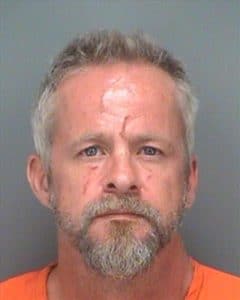 The incident occurred at approximately 12:28 a.m., on October 6, 2018 in a wooded area, southeast of Tampa Road and Eastlake Road in Oldsmar.  The wooded area is approximately 600 feet south of Tampa Road at a homeless camp.
According to detectives, deputies and Eastlake Fire Rescue were dispatched for a fire in the wooded area owned by Southwest Florida Water Management District.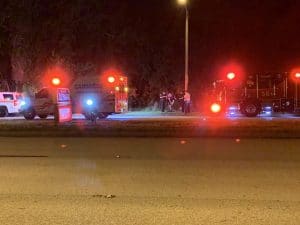 Detectives say that when deputies arrived on-scene, 60-year-old, James Heffernan, was suffering severe burns to approximately 75 percent of his body. Heffernan was flown to the burn unit at Tampa General Hospital along with 64-year-old, David Mahoney, who suffered burns related to extinguishing the fire.
Rosenbaum Jr., the third subject, was uninjured in the incident. All three men were intoxicated.
Through their investigation, detectives learned an argument occurred between Heffernan and Rosenbaum, inside the tent at the homeless camp. The argument became physical, and Heffernan exited the tent with Rosenbaum following after him.
Detectives say Heffernan and Rosenbaum continued the argument outside of the tent and Rosenbaum picked up a gasoline can as Heffernan struggled to get it away from him.  Moments later, Mahoney exited the tent and observed Heffernan fully engulfed in flames. After struggling with Heffernan for a few minutes, Mahoney was able to extinguish the fire, which caused burns to his hands and feet.
Through various investigative techniques, detectives were able to determine Rosenbaum had poured gasoline onto Heffernan and set him on fire.
On October 6, 2018, at approximately 8:37 p.m., Rosenbaum was arrested and transported to the Pinellas County Jail without incident.
Rosenbaum was charged with one count of Attempted Murder.
Mahoney remains in a local trauma center with non-life threatening injuries.
Heffernan remains in a local trauma center in critical condition.
The investigation continues.
[gmap-embed id="25281″]