Exhaustive investigative work and tips helped Florida Highway Patrol (FHP) arrest subject two years after fatal Hillsborough Hit-and Run crash.
It was January 27, 2015, when a hit-and-run crash claimed the life of 24 year-old Tampa resident, Joshua Contreras. The crash occurred at approximately 11:06 PM when Contreras was traveling westbound on I-4 in a 1993 Chevy pickup truck.  His truck broke down east of US-301 and he parked on the outside shoulder of the roadway.
Contreras was outside the vehicle when he was struck by a vehicle that traveled onto the outside shoulder.  That vehicle continued to drive westbound on I-4 after killing Contreras.
Evidence collected at the scene and from witnesses led them to believe that the vehicle that fled was a Nissan Altima.  After the careful examination of parts left at the scene, it was determined the vehicle was a red Nissan Altima model years 2012-2014.  At that time FHP sought the assistance of the public to help identify the vehicle and/or its driver.
On Friday, February 24, 2017, FHP announced the arrest of 26 year-old David Tucker at his mother's house on Redleaf Drive in Brandon, Florida.
FHP described the search as exhaustive leading up the arrest of Tucker.  The Altima, which was a rented vehicle, was located burned in Miami, Florida.  Physical evidence recovered from the burned rental vehicle as well as confidential tips led to his arrest.
Tucker was arrested and facing charges of leaving the scene of a fatal crash and tampering/destroying evidence.
He was booked into the Hillsborough County Jail and is being held without bond.
---
February 2017 is Hit and Run Awareness Month
"All motorists involved in a crash must be prepared to act responsibly and in accordance with state law," said DHSMV Executive Director, Terry L. Rhodes. "Motorists are required to stay at the scene, provide certain information to the other parties involved and contact necessary law enforcement and first responders. These actions may save a life."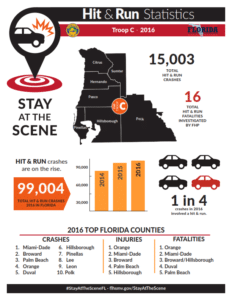 Staying at the scene is not only the law, but ensures that those impacted by a crash are safely assisted. In 2016, there were 99,004 hit and run crashes in Florida with 15,851 resulting charges. Under Florida law, a driver must stop immediately at the scene of a crash on public or private property that results in injury or death. Leaving the scene of a crash is a felony and a driver, when convicted, will have their license revoked for at least three years and can be sentenced to a mandatory minimum of four years in prison. "Leaving the scene of a traffic crash is a crime," said Florida Highway Patrol Director, Colonel Gene Spaulding. "It is your responsibility to remain at the scene and immediately report the accident to law enforcement. You should do your best to provide immediate assistance to other motorists, passengers or pedestrians that may have been injured in the crash and wait for emergency first responders to arrive."
Vulnerable road users, like bicyclists and pedestrians, are particularly at risk for drivers leaving the scene. In fact, of the 179 hit and run fatalities in 2016, more than 55 percent were pedestrians. During that same period, 18 to 28 year olds received over one third of all hit and run charges issued, 70 percent of which were male.
"Leaving the scene of a crash is dangerous, and it can be deadly. Help our officers render aid and protect lives by making the responsible decision to remain at the scene and immediately contact first responders," said
Coconut Creek Police Chief Albert (Butch) Arenal, President of the Florida Police Chiefs Association. "Don't make a bad situation even worse by leaving – it's a felony." "Motorists who leave the scene of a traffic crash not only violate the law, but create a situation where additional law enforcement resources must be deployed to make roadways safe," said Sheriff Jerry Demings, President of the Florida Sheriffs Association. "For this reason, and to protect the citizens that we serve, our Florida sheriffs fully support the DHSMV Stay at the Scene initiative."
"If you've crashed, try to stay calm," said Amy Stracke, Managing Director, Traffic Safety Advocacy, AAA – The Auto Club Group. "That will help you keep a clear head, so you can focus on getting the help you need."
The most important thing a driver can do when they are involved in a crash is to Stay at the Scene and call for help. The public is encouraged to report hit and run crashes by dialing *FHP (*347). For more information on hit and runs and staying at the scene, visit: http://www.flhsmv.gov/stayatthescene.
Click below to see a County by County breakdown of hit and run crashes for 2016.
2016 Hit and Run Crashes by County
Comments
comments