The Pinellas County Sheriff's Office Major Accident Investigation Team (M.A.I.T.) is investigating a crash on the Pinellas Bayway.
The crash occurred at approximately 6:45 p.m. on Saturday, March 30, 2019 in front of the entrance to the Ft De Soto boat ramp in Tierra Verde.
Video From Scene of Crash
According to investigators, Deputy Luis Guiral, age 23, was on duty driving his fully marked 2018 Chevrolet Tahoe cruiser northbound on Pinellas Bayway South with his emergency lights on responding to a stolen vehicle in-progress call for service.
As Deputy Guiral approached the entrance to the Fort De Soto Park boat ramp entrance, traffic stopped in front of him in the northbound lanes. Deputy Guiral proceeded northbound in southbound lane of Pinellas Bayway South in order to pass the traffic stopped in front of him.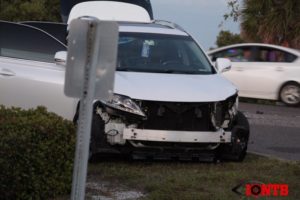 Investigators say 26-year-old Mariela Martin of Tampa was driving a 2015 Lexus RX350 northbound on Pinellas Bayway South when she began making a left turn into the boat ramp parking lot. Martin's Lexus struck the passenger side of Deputy Guiral's Tahoe as he was attempting to overtake her vehicle.
The impact caused Deputy Guiral to lose control of the Tahoe and his cruiser overturned. Deputy Guiral's Tahoe came to final rest on its passenger side in the southbound lane of Pinellas Bayway South.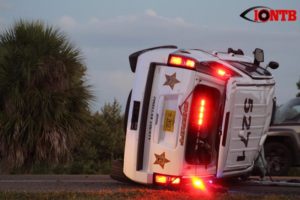 Citizens helped to extricate Deputy Guiral from his cruiser.
Paramedics transported Deputy Guiral to Bayfront Health St. Petersburg Hospital for non-life threatening injuries. Martin and her passengers were uninjured.
Investigators said, "Deputy Guiral did not have his emergency siren on at the time of the crash. In addition. investigators say that neither speed nor impairment appear to be factors in the crash.
The investigation continues.
Comments
comments